On July 23, 2020 in Asian games park construction site , the last space frame element is  lifted  on the roof slowly.  Hangzhou's "National Ball Center" roof space frame assembly completed smoothly.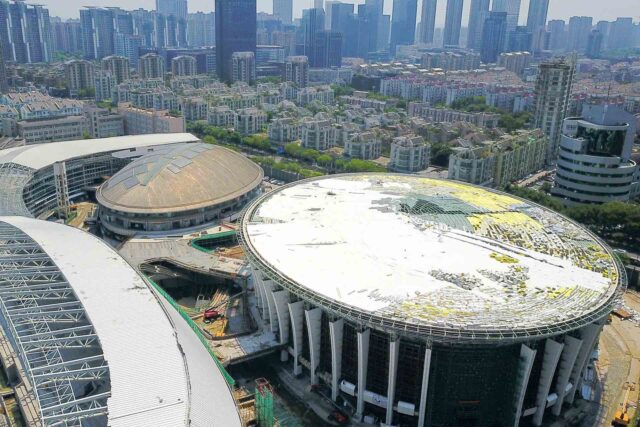 The building area of ​​the table tennis hall in Yunhe Aisan games park is approximately 21 million square meters. It is also known as the "National Ball Center".  It is divided into three floors. Two floors are on the ground  while one floor  is under the ground. this hall  is capable to accommdate 7,000 viewers.
The architectural model is designed by the US ATS team.  The space frame roof  has a longest span of about 130m.The hall span is about 90 meters. The space frame structure has 15 units, 4201 tubes. The space frame has a weight of 570 ton. The upper part of the roof is a space frame structure. And the lower part is variable curved bending grid structure.The structure design is complex, and the construction is difficult. The online installation uses the block hoisting method for construction, first divided into 15 units for ground assembly, set up temporary support, then start the lifting position, first install the inner ring, then install the outer ring, each unit weight is 25 tons -46 Tons. The whole construction lasts 3 months.